Every car seems perfect when you buy it brand new, but how well will it stand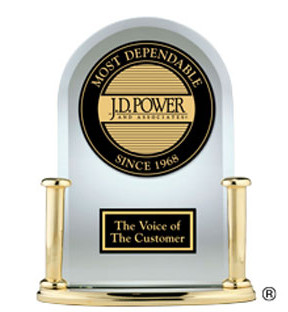 the test of time? J.D. Power studies the dependability of real world vehicles, focusing on how many problems vehicle owners actually experience. The Most Reliable Compact Car, Most Reliable Minivan, and Most Reliable non-luxury Automobile Brand are all Toyotas, according to J.D. Power's 2015 Dependability Study. That means a used Toyota functions more like a brand new one than any other non-luxury vehicle does.
J.D. Power's 2015 Vehicle Dependability Study asked the original owners of 2012 model year vehicles what problems they experienced during the previous 12 months. The 2012 Toyota Corolla beat the 2012 Nissan Leaf and 2012 Honda Civic to be named the Most Reliable Compact Car. The 2012 Corolla's enhanced standard equipment and premium option package performed better than the
many vehicles whose owners complained of malfunctioning tech equipment. The 2012 Toyota Sienna, with its available infotainment system and variety of trim levels, was named the Most Reliable Minivan. 2012 Sienna owners reported fewer problems than the 2012 Honda Odyssey.
J.D. Power also ranked each automobile brand as a whole for reliability. Toyota
was ranked #3, behind #1 Lexus and #2 Buick, making it the top-ranked non-luxury automobile brand. Toyota is ranked more reliable than #5 Honda, #13 Nissan, #22 Volkswagen, and last place #31 Fiat. For all brands, owners reported an average of 147 problems per 100 vehicles. Toyota owners, however, reported only 111 problems per 100 vehicles.
Choose your dependable used vehicle today from Limbaugh Toyota in Birmingham. Limbaugh carries a full inventory of used vehicles, from a wide variety of brands, including the Power Ranked Lexus, Buick, Cadillac, and of course Toyota.